9/27 Update & Maintenance Announcement
2019-09-25 11:10:41
Your Highness,
All Legend of Empress servers will be shut down for maintenance on 9/27/2019. During the maintenance, we will release the latest game version which enriches multiple gameplays. The estimate maintenance duration is 6 hours, maintenance time may be adjusted according to the actual situation. This update will be contained in a patch, which will be detected and loaded when you log in the game after the maintenance.
[Maintenance Duration]
NA Servers: 1:00 p.m. ~ 7:00 p.m. , 9/26/2019 (UTC-7)
SEA Servers: 4:00 a.m. ~ 10:00 a.m. , 9/27/2019 (UTC+8)
[Servers]
All servers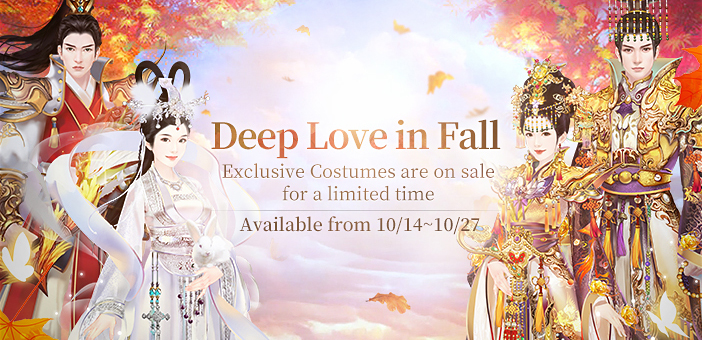 [Updates]
Limited Time Summon Event "Deep Love in Fall" is going to start after the update. Your highness can get great costumes in this event from 10/14 ~ 10/27!
Divination & Palace Strategies
With the Heroes improved continuously, how should our characters fall behind?
The two functions will be unlocked once your Character reaches Lv. 110.
New Epic Hero 'Shi Niang'
New epic hero Shi Niang is arriving! She was an humble woman who was unyielding when facing oppression.
[Tips]
1. There will be a 5-minute maintenance countdown before the maintenance starts, during which you can not do anything in the game. As soon as the maintenance starts, you will not be able to log in the game. Please arrange your time in advance.
2. Please take note of your account, password as well as your server name before the maintenance.
3. We appreciate your understanding and support. Please do not hesitate to contact us as following if you have any questions or issues.
================================
Customer Service: LOE_service@friendtimes.net
Official Website: http://loe.wishgamer.com/index.html
Official Facebook Page: https://www.facebook.com/LegendofEmpressZH